Church school status
Altwood is a Church of England Academy within the Diocese of Oxford, and it is a school with a Church Foundation. This reflects the school's history and the involvement of The Church of England in the education of young people in their communities; it does not mean our students or their families have to have a Christian faith, or any religious faith. But everyone is expected to respect the teachings of the Christian faith.
The school's Christian vision is based on the Bible verse found in John 10.10 ensuring all our students and staff live 'life in all its fullness'.
We believe that education in all its fullness enables all people, students and staff, to flourish, socially, emotionally and academically. Students and staff of all faiths or none at all are equally valued, cherished and loved.
Our Chaplain, Rev Jo Ellington is in school regularly supporting students with pastoral and spiritual concerns, especially on Tuesday 'Chapel and Chats'. Father Jeremy from All Saints Church, Boyne Hill, is also a regular visitor to our school, leading assemblies and supporting in the chapel.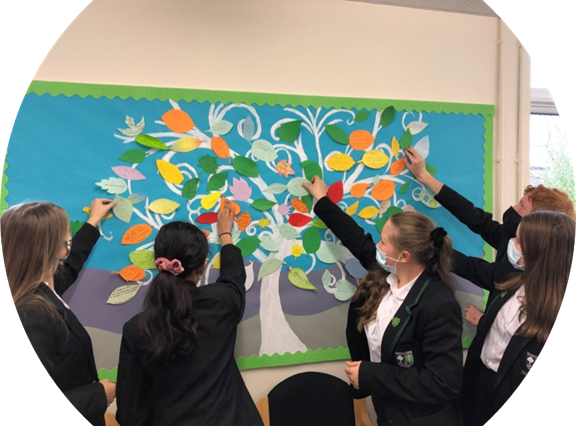 Students placing wishes for the world on our Spirituality Tree in the Chapel during COP26